The Church for the Fellowship of all Peoples at 2041 Larkin Street in San Francisco. 
By Kerri Young
Located on 2041 Larkin Street near Broadway, The Church for the Fellowship of All Peoples (also known as Fellowship Church) is significant as the first intentionally interracial, interfaith congregation in the United States. Its co-founder was prominent African American minister Dr. Howard Thurman (1899-1981).
Thurman was born and raised in Daytona, Florida by his grandmother, a former slave. He became an ordained Baptist minister in 1925. In 1929, during his tenure as professor of religion and director of religious life at Morehouse and Spelman colleges in Atlanta, Georgia, Thurman had the opportunity to study at Haverford College with Quaker pacifist Rufus Jones. His time with Jones changed his life, and Thurman began his journey towards a philosophy that stressed an activism rooted in faith and maintained in peace. His thinking was honed by a 1935 trip to India with other African Americans to meet Mohandas Gandhi, who completed Thurman's conversion to nonviolent social activism.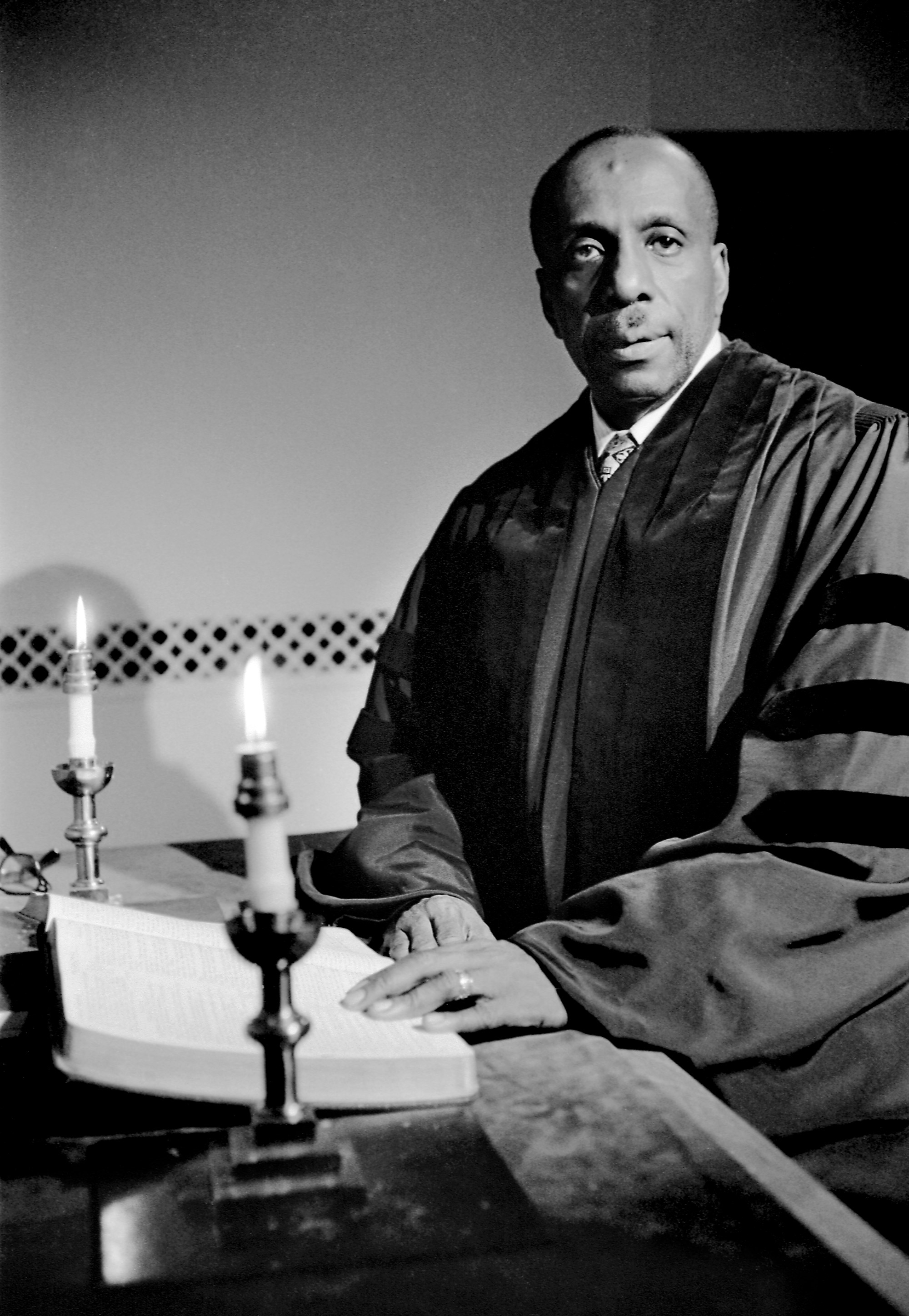 Howard Thurman. Wartime tensions over fair housing, employment, and education fostered increased political activity and involvement by San Francisco's African American religious and political leaders, and Thurman and the Fellowship Church played a crucial role in creating a bridge of understanding among the varied races, cultures, and faiths in the city. Photo by BU Photography. 
In 1944, Thurman left his position as Dean of the Chapel at Howard University to co-found The Church for the Fellowship of All Peoples in San Francisco with Reverend Alfred G. Fisk. It was the first congregation in the United States that encouraged participation in its spiritual life regardless of religious or ethnic background.
The church was founded during the height of World War II, a period of tremendous growth among the Black population in San Francisco. In "Footprints of a Dream," Thurman wrote that in America in 1944, "Segregation of the races was part of the mores, and the social behavior of the country." Fisk and others were acutely aware of the injustices seen around them, "and were glad to share in the simple but dramatic witness of brotherhood practiced in common worship." After Fisk reached out to Thurman for a second time in hopes of finding someone to lead their new neighborhood church, Thurman wrote that "for the first time there was kindled in my mind the possibility that that this may be the opportunity toward which my life had been moving….San Francisco with its varied nationalities, its rich intercultural heritages — San Francisco was the ideal center."
Inaugural services were held on October 8, 1944, at the First Unitarian Church at 1187 Franklin Street, with the participation from a diverse set of San Francisco's religious and political leaders.
A few years later, the congregation moved to its present home on Larkin Street, into a church building that was originally constructed in 1907 as St. John's German Evangelical Church.
The ideals by which Thurman led the Fellowship Church were an important influence in the life of Dr. Martin Luther King. King often sought counsel from Thurman, and it is said that King carried Thurman's most important book, Jesus and the Disinherited, while leading the 1955–56 Montgomery bus boycott. Published in 1949, Thurman provided an interpretation of the New Testament gospels that laid the foundation for a nonviolent civil rights movement. The book argues that Jesus taught the oppressed a faith-based unconditional love that would empower them to survive in the face of oppression. A love rooted in the "deep river of faith," wrote Thurman, would help oppressed peoples overcome persecution. "It may twist and turn, fall back on itself and start again, stumble over an infinite series of hindering rocks, but at last the river must answer the call to the sea."
Thurman's philosophy guides the Fellowship Church's continuing mission today. Under the pastorship of Dr. Dorsey Black and Dr. Kathryn Benton, the Church holds worship services, forums, seminars, and special events, and spiritually prepares its community for social justice work. They welcome guest speakers from varied spiritual and religious traditions. Church services are on hold during the Covid pandemic until further notice, but ministers are providing regular reflections on the Church's blog.
---
Sources: Howard Thurman, Jesus and the Disinherited. New York: Abigdon Press, 1949.; Christopher VerPlanck, SF Planning Department, Tim Kelley, & Al Williams, "African American Citywide Historic Context Statement Final Draft" (January 2016), 109-111. ; "Howard Thurman," This Far By Faith. PBS. WGBH and ITVS. 2003; Rich Barlow, "Who Was Howard Thurman?", BU Today, January 7, 2020, https://www.bu.edu/articles/2020/who-was-howard-thurman/; Howard Thurman, Footprints of a Dream: The Story of the Church for the Fellowship of All Peoples (Wipf and Stock Publishers, 2009) 29-30.